Comfort Half cup bra
$158.00
In feisty red, the Comfort Half-Cup Bra befits a strong personality, with its robust 3-part cups perfect for holding generous cleavage. Stretchable multistranded tulle makes for a flexible, comfortable style, perfect to wear all day. Guipure swirls add allure and intrigue to this Aubade A L'Amour piece. This bra has augmented straps for comfortable all-day support. In dramatic, bold red tones, the Aubade à l'Amour is a collection confidently about love. Calais Leavers lace, amidst draped tulle and guipure detailing create classic romance with a modern flair. The vivid Rouge Darling red mingles sensuality with assertiveness, while the stretchable tulle and jacquard create graceful, figure-enhancing shapes.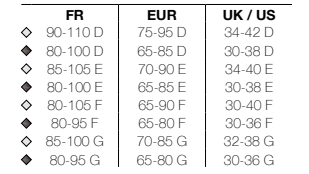 Email to a friend
Description
Material & Care
LACE CUP FRONT:
94% Polyamide 6% Elastane
LINING:
100% Polyamide
CUP LINING:
100% Polyester
KNIT BACK:
70% Polyamide 30% Elastane
FRONT TULLE:
80% Polyamide 20% Elastane
[fila] [tamaño de columna = "la mitad"]
Devoluciones y cambios
Hay algunas cosas importantes que tener en cuenta al devolver un producto que compró.
Puede devolver los artículos no deseados por correo postal dentro de los 7 días hábiles posteriores a la recepción de sus productos.
[estilo de lista de verificación = "flecha"]
Tiene 14 días calendario para devolver un artículo desde la fecha en que lo recibió.

Solo artículos comprados directamente de nosotros.

Asegúrese de que el artículo que está devolviendo se volverá a empaquetar con todos los elementos.
[/ lista de verificación] [/ columna] [tamaño de columna = "la mitad"]
Envíe su artículo de vuelta a nosotros
Primero imprima y devuelva este Formulario de devoluciones a:
30 South Park Avenue, San Francisco, CA 94108, EE.
UU.
Recuerde que se enviará el artículo que está devolviendo esté empaquetado de nuevo con todos los elementos.
Para obtener más información, vea nuestra información completa sobre devoluciones e intercambios.
[/ columna] [/ fila]