Global 6500
$56,000,000.00
Wide-open living spaces, refined interior design, sheer comfort, total performance and a smooth ride are all synonymous with Global business jets. The Global 6500 aircraft will reshape your expectations and thrill your senses with a stunning cabin, new engines and leading-edge wing technology for a heightened flight experience that is quintessentially Global.
SMOOTHEST RIDE
Next-generation wing with fully re-profiled trailing edge combines flexibility and refined aerodynamics to deliver the smooth ride for which Global business jets are renowned.
LARGEST CABIN
The widest-in-class cabin provides a spacious environment to push the boundaries of interior design with three distinct living spaces maximizing movement and privacy.
REVOLUTIONARY SEATING
The industry's most innovative seating collection redefines comfort with the versatile Nuage chaise and patented Nuage seat featuring its unique deep recline.
SHARPEST ENTERTAINMENT
The first 4K-enabled cabin with the fastest in-flight connectivity and intuitive cabin management system put an ultra-high-definition entertainment experience within reach.
LONGEST RANGE
Leading-edge wing technology and new, purpose-built Rolls-Royce Pearl engines give the Global 6500 aircraft class-leading range, speed and agility to connect more cities, including those its competitors can't access.
CLEAREST VISION
The incomparable Bombardier Vision flight deck is now the first to overlay infrared and synthetic terrain imagery for true combined vision that clears the way for a smooth landing in the most challenging conditions.
payments in two installments, 50% at initial and 50% upon delivery
Email to a friend
Description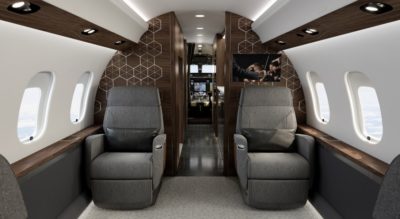 A space that fits your lifestyle
---
The Global 6500 aircraft's wide-open living spaces are where form and function come together in a visually stunning environment. The latest technology keeps you connected and entertained, while new innovative seating delivers the comfort you expect from a cabin built around you.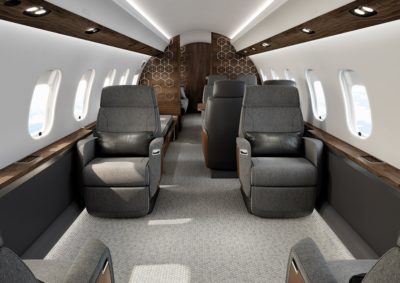 Largest cabin
With the widest in-class cabin, the Global 6500 offers passengers an unprecedented combination of space and elegance, while innovative, extra-wide seating with higher armrests provide the utmost in comfort. Three distinct living spaces form an exceptionally accommodating environment designed to maximize movement and create privacy for an unparalleled flight experience.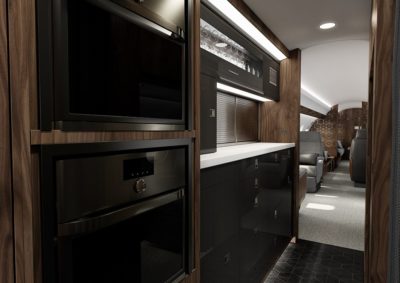 A Professional Space
The kitchen aboard the Global 6500 aircraft is as beautiful as it is functional. New cabinets and countertops coupled with high-end exposed appliances, including a steam oven, expand the culinary possibilities for a formal meal or your favourite treat. It offers extraordinary storage space, high-quality cooking amenities, and a contemporary countertop with plenty of space for your crew to prepare meals.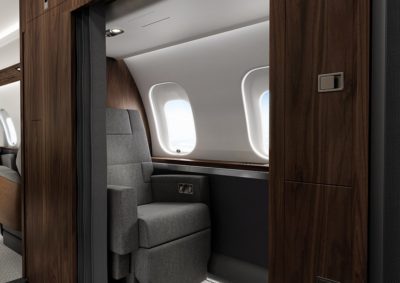 Your crew at their best
The Global 6500 aircraft is equipped with a separate crew rest area and forward lavatory to ensure your privacy and the comfort of your crew throughout the entire flight.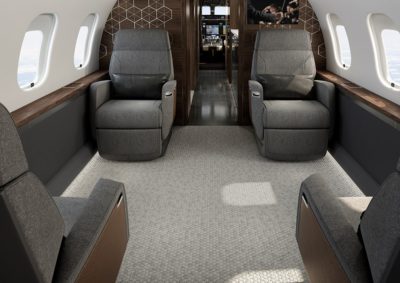 Comfort at the forefront
The Club Suite is the perfect place to get to work or just kick back and relax. The Global 6500 aircraft does away with the traditional aircraft seat and replaces it with the Nuage seat, an ergonomic masterpiece that is as simple as it is comfortable.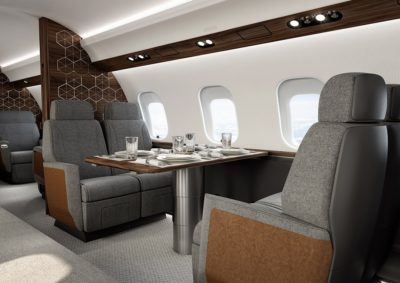 Conference. Dine. Lounge.
The Conference Suite is a versatile space with a table seating up to six, making it the perfect setting for an important meeting or a delicious meal. With the award-winning Nuage chaise, a first in business aviation, this area becomes a relaxing place to catch up on your reading or to simply watch the world go by.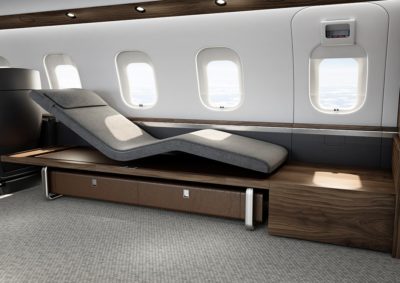 The Nuage chaise
The Nuage chaise is a unique seating system that is high on style and comfort. Its minimalist design complements the cabin's open feeling, while its functionality gives this space unprecedented versatility. A seat that follows the curve of your body as a lounge chair, and converts into a flat surface for sleeping or seating additional people at the conference table.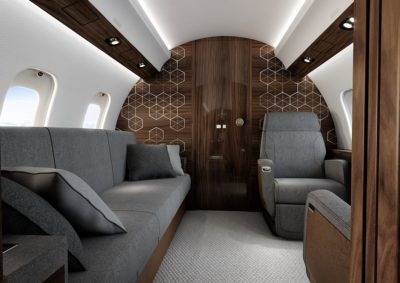 Serenity by design
The Private Suite is your onboard retreat. Tucked away in the quietest part of the cabin, it offers the utmost tranquility for a quick nap or a good night's sleep. The adjoining En Suite with available shower and large wardrobe allows you to arrive refreshed and ready for whatever awaits.
It features a full berthing divan for undeniable comfort all night long, large windows for ample light, and an independent, adjustable temperature control. In addition to its own En Suite, the Private Suite can also be closed off for privacy and used as a working area underlining its complete versatility.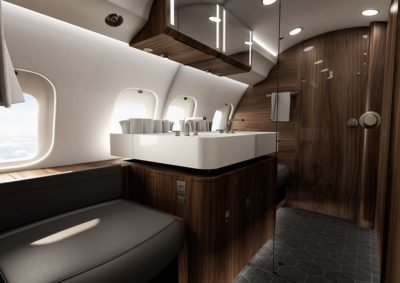 En Suite
The contemporary styling and comfortable efficiency of the En Suite features a newly remodeled sink and toilet, plus a wardrobe storage cabinet with coat rod and shelving. The Global 6500 aircraft is also the first business jet to offer an available stand-up shower, which means you can arrive at your destination refreshed and ready to take on the day.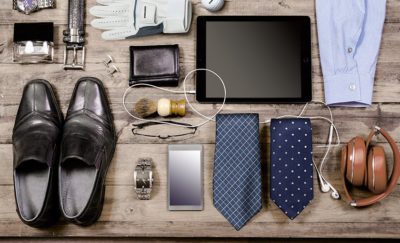 Unlimited access
With access to the baggage compartment at all times, your personal items are always within reach.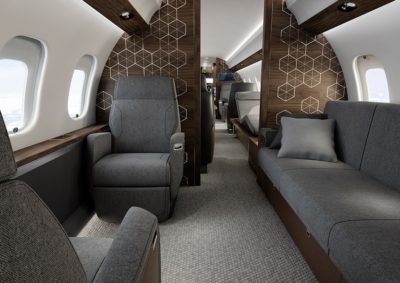 Meticulously designed
Meticulous attention to detail from innovative new seating, a stylistic side ledge, an elegant credenza, a contemporary divan and an ultra-efficient kitchen are a perfect reflection of Bombardier's enduring commitment to quality and craftsmanship.  Clean lines, refined materials, and highly functional design characteristics have been intentionally developed to deliver absolute comfort and productivity.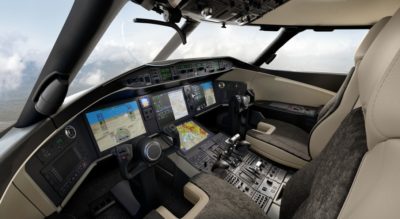 ---
From the Bombardier Vision flight deck's Combined Vision System to the industry's first 4K-enabled cabin and leading-edge wing technology, the Global 6500 business jet is the height of innovative design, inside and out. Whether you are flying or being flown, the aircraft's cutting-edge features deliver an exceptional onboard experience.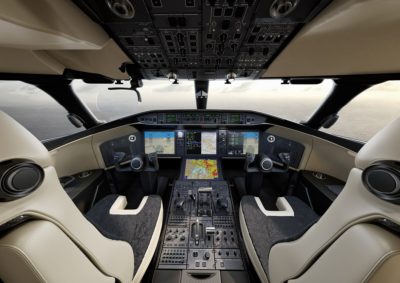 A flight deck with clear vision
The Bombardier Vision flight deck, the industry's leading cockpit, combines a comprehensive avionics suite with refined aesthetics for an exceptional flying experience.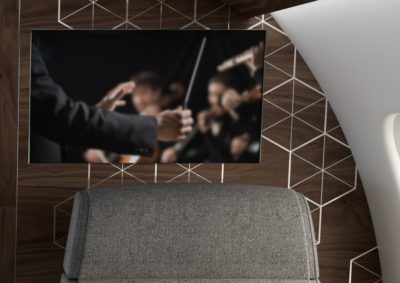 4K takes flight
The first 4K-enabled cabin with the fastest in-flight connectivity and intuitive cabin management system put an ultra-high definition entertainment experience within reach.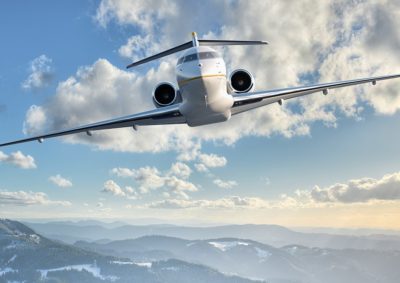 Fast. Intuitive. Reliable. Flexible.
The Global 6500 aircraft's cabin management system is ultra-fast, reliable and is supported by a fiber optic backbone. Its intuitive design makes it simple to link to all devices so you can be as productive or connected, as you need to be. The centralized media bay offers a generous storage area to give you the flexibility and convenience you need to connect all your personal electronic devices.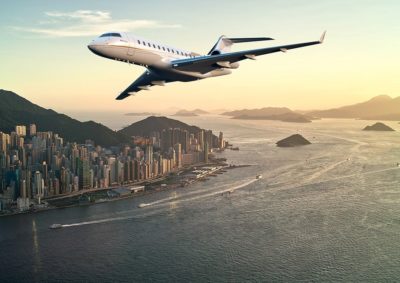 Lightning fast
With Bombardier's Ka-band technology, you are connected to the fastest internet connectivity in the industry. Ka-band offers worldwide* coverage, unparalleled reliability, unparalleled streaming, and hyper-fast connectivity speeds to keep you connected wherever your travels lead you.
Up to 35 times faster than other aviation internet systems utilizing the latest satellite technology
In-flight streaming, video conferencing and downloading
Backed with performance commitments from service providers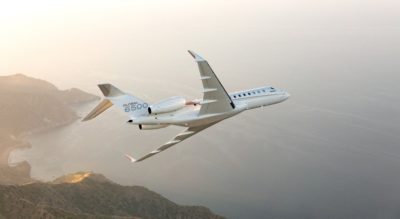 Engineered for total performance
---
The Global 6500 aircraft delivers unmatched versatility — offering the perfect combination of range, speed, field performance and smooth ride. The result is uncompromised performance engineered to get you where you need to be in absolute comfort.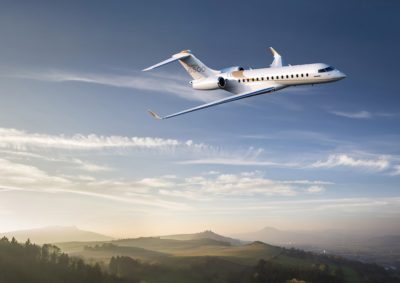 Range
With an impressive range of 6,600 nautical miles, the furthest in its class, the Global 6500 business jet connects more cities like Hong Kong and London or Toluca and Madrid non-stop, saving you time and putting more of the world's business centres within reach.
Field performance
A superbly agile aircraft capable of effortlessly accessing difficult airfields like London City, where its competitors can't get you.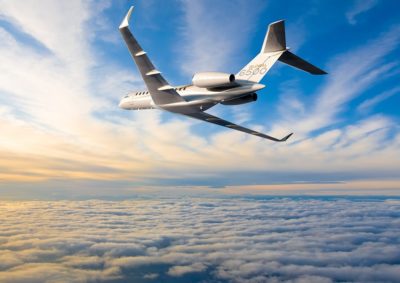 Speed
The brand-new Rolls-Royce Pearl engine, purpose-built for the Global 6500 aircraft, powers it to top speeds of M 0.90 keeping you ahead of schedule wherever you're going.
Smooth ride
The next-generation Global wing with fully re-profiled trailing edge combines renowned flexibility with refined aerodynamics for a smooth and comfortable ride for the best night's sleep.
[fila] [tamaño de columna = "la mitad"]
Devoluciones y cambios
Hay algunas cosas importantes que tener en cuenta al devolver un producto que compró.
Puede devolver los artículos no deseados por correo postal dentro de los 7 días hábiles posteriores a la recepción de sus productos.
[estilo de lista de verificación = "flecha"]
Tiene 14 días calendario para devolver un artículo desde la fecha en que lo recibió.

Solo artículos comprados directamente de nosotros.

Asegúrese de que el artículo que está devolviendo se volverá a empaquetar con todos los elementos.
[/ lista de verificación] [/ columna] [tamaño de columna = "la mitad"]
Envíe su artículo de vuelta a nosotros
Primero imprima y devuelva este Formulario de devoluciones a:
30 South Park Avenue, San Francisco, CA 94108, EE.
UU.
Recuerde que se enviará el artículo que está devolviendo esté empaquetado de nuevo con todos los elementos.
Para obtener más información, vea nuestra información completa sobre devoluciones e intercambios.
[/ columna] [/ fila]