Global 7500
$75,000,000.00
The Global 7500 aircraft stands alone as the world's largest and longest range business jet. Within its luxurious interior are four true living spaces, a full size kitchen and a dedicated crew suite. Elevate your flight experience and discover the uninhibited freedom and tailored luxury of the Global 7500 aircraft—a new class of business jet.
SMOOTHEST RIDE
A wing that's a technological marvel, engineered for maximum control and agility at all speeds while delivering the smoothest ride.
LONGEST RANGE
Industry-leading 7,700 nautical mile range, a top speed of Mach 0.925 and exceptional short-field performance unrivalled in business aviation.
LARGEST CABIN
The only business jet large enough to accommodate four true living spaces with an available Master Suite and full size bed, dedicated crew suite and kitchen.
REVOLUTIONARY SEATING
Redefining comfort with its revolutionary deep recline feature, the patented Nuage seat is the first new seat architecture in business aviation in 30 years.
VISIONARY LIGHTING
Combat jet lag with the Soleil lighting system, aviation's first circadian rhythm-based lighting system fully-integrated to the Flight Management System and featuring Dynamic Daylight Simulation.
CLEAREST VISION
Featuring next generation fly-by-wire technology, the Bombardier Vision flight deck blends cutting-edge avionics with exceptional ergonomics and aesthetics for remarkable comfort and control.
payments in two installments, 50% at initial and 50% upon delivery
Email to a friend
Description
A convergence of business and pleasure
Step aboard and into a Club Suite that means business. Featuring the revolutionary Nuage seat and extra-large windows, this bright and inviting living space creates the perfect environment for quiet reflection, conversation and business productivity.
With new larger and evenly spaced windows, the Global 7500 aircraft provides more natural light than any other cabin in business aviation, as well as providing every passenger with a window seat.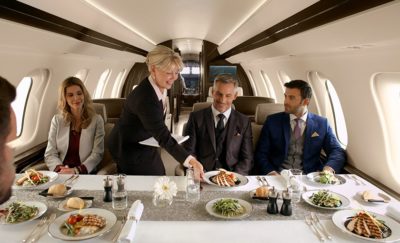 Your table is ready
With comfortable seating for six, the elegant Conference Suite of the Global 7500 jet features a distinct design with sophisticated style. Bring guests together for a business lunch or a family dinner and savour fine cuisine, meticulously prepared in the industry's largest and most well-appointed kitchen.
The kitchen on the Global 7500 aircraft is as elegant as it is functional. Developed in consultation with the world's top cabin crews, the remarkable kitchen was designed with intent to prepare the industry's most varied meal selections.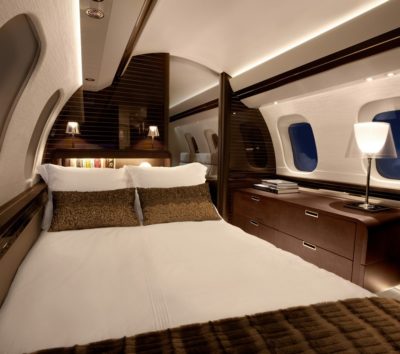 What dreams are made of
In the Global 7500 aircraft's available Master Suite, discover the soothing tranquility of home. Experience luxurious comfort in a personal space that features an unprecedented array of optional furnishings, including a permanent bed and true stand-up shower in the En Suite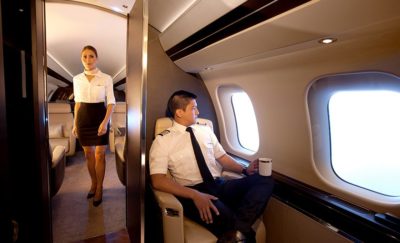 Dedicated Crew Suite
Cabin comfort extends to the crew, thanks to a permanently accessible and well equipped Crew Suite designed to maximize comfort and privacy on long haul flights.

A flight deck with Vision
---
Experience the industry's most spacious cockpit with the latest Bombardier Vision flight deck on the Global 7500 aircraft. Featuring advanced fly-by-wire technology, superior aesthetics, and equipped with a permanent side-facing jump seat, the Global 7500 jet maximizes crew comfort and efficiency.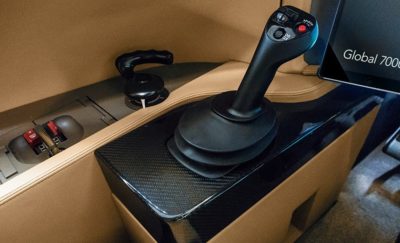 Fly-by-wire with freedom and protection
Bombardier's proven fly-by-wire system has been engineered with intent to maximize safety through a balanced design that combines control input freedom with the security of the industry's most complete flight envelope protection.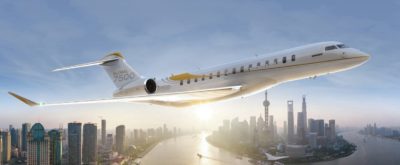 ---
Engineered for total performance and featuring an industry leading 7,700 nm range, no other business jet offers the Global 7500 aircraft's ultimate combination of range, speed, field performance and smooth ride.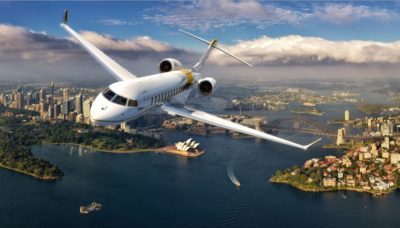 Range
An industry-leading 7,700 nautical mile range connects some of the world's most expansive city pairings, including routes such as New York to Hong Kong and Singapore to San Francisco.
Speed
GE Passport engines, designed specifically for the Global 7500 business jet, power it to a top speed of Mach 0.925 with dependable reliability and improved fuel efficiency.
Field Performance
Remarkable steep approach support will make the Global 7500 jet the largest business aircraft to access London City Airport. Combined with exceptional braking, the field performance of the Global 7500 rivals that of much smaller aircraft.
Smooth Ride
A cutting-edge wing design with outstanding wing loading enables the Global 7500 aircraft to deliver the industry's smoothest flight for a ride quality that is simply unmatched in business aviation.
[fila] [tamaño de columna = "la mitad"]
Devoluciones y cambios
Hay algunas cosas importantes que tener en cuenta al devolver un producto que compró.
Puede devolver los artículos no deseados por correo postal dentro de los 7 días hábiles posteriores a la recepción de sus productos.
[estilo de lista de verificación = "flecha"]
Tiene 14 días calendario para devolver un artículo desde la fecha en que lo recibió.

Solo artículos comprados directamente de nosotros.

Asegúrese de que el artículo que está devolviendo se volverá a empaquetar con todos los elementos.
[/ lista de verificación] [/ columna] [tamaño de columna = "la mitad"]
Envíe su artículo de vuelta a nosotros
Primero imprima y devuelva este Formulario de devoluciones a:
30 South Park Avenue, San Francisco, CA 94108, EE.
UU.
Recuerde que se enviará el artículo que está devolviendo esté empaquetado de nuevo con todos los elementos.
Para obtener más información, vea nuestra información completa sobre devoluciones e intercambios.
[/ columna] [/ fila]