Description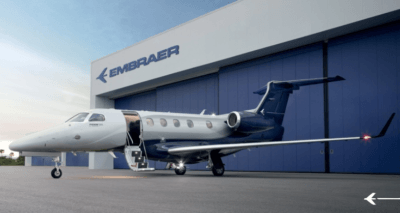 Strong. Sleek. Assertive. This fierce-looking jet never fails to turn heads.
Its eye-catching nose is immediately recognizable; its low, swept wing
with winglets make a powerful statement; and its impressive airstair,
complete with handrail and step lighting, creates a dramatic grand
entrance. Boasting a dominating ramp presence unlike any other, the
Phenom 300E is a true force to be reckoned with. The attraction is
undeniable. And the feeling, absolutely unforgettable.
aa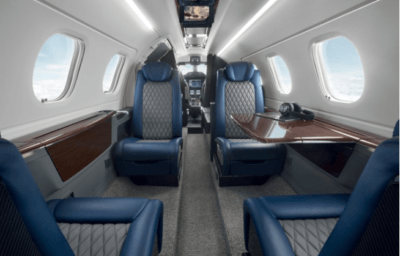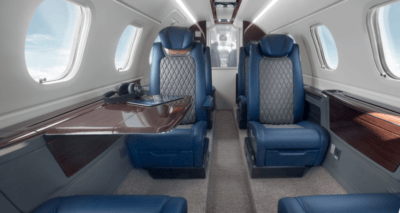 The Phenom 300E's cabin altitude of 6,600 feet – the lowest in its
class – is ideal for working or relaxing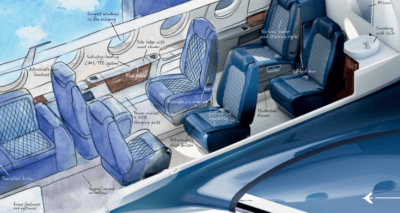 Every inch of the Phenom 300E has been intelligently designed to offer
unprecedented space. The exclusive Oval Lite
®
cabin provides the most
head and legroom of any light jet, while oversize windows bathe the cabin
in abundant natural light. Opening flush with the side ledge, the cabin's
stowable tables offer plenty of room for working or dining. And with
generous ba
gg
age volume, you'll be able to bring along everything
you need every time you fly aboard this incredible aircraft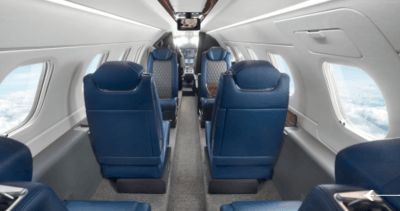 Intelligent design is not built around the latest trends. Rather, it is the seamless
integration of style, technology, quality and purposeful functionality. It's about offering
elegant solutions that beautifully and effortlessly serve you. This commitment to
intelligent ergonomics and extraordinary craftsmanship is evident throughout the
Phenom 300E's exquisite design. Every inch of the meticulously appointed cabin is
crafted to deliver unparalleled class and usability. Innovative technology is brought
to the forefront with Embraer's exclusive upper tech panel – complete with touch
controls, downwash lighting, unique flush gaspers and optional drop-down monitor
– and the addition of nice HD
®
by Lufthansa Technik, an advanced cabin control
system that offers portable device integration and wireless audio/video streaming.
And for superior comfort and mobility, the Phenom 300E's seats feature
enhanced headrests, retractable armrests, adjustable thigh bolsters and custom
stitching. The result: a highly sophisticated, luxurious and forward-thinking
cabin environment designed to suit your every need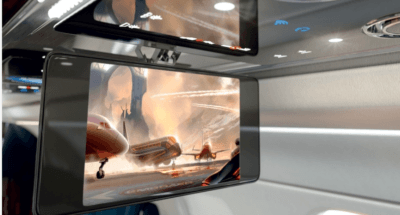 Embraer Design DNA is the strategic design philosophy that guides our
business jet innovation path. Its purpose is clear: create distinguishable
elements with a sustainable product evolution; build upon proven solutions;
increase maturity and quality over time; and optimize costs and resources
among platforms through discernible features and timeless design. To that end,
future technologies and interfaces are continuously adapted and translated into
the Embraer Design DNA vision, providing not just advanced comfort, style and
connectivity, but also unbeatable value for customers.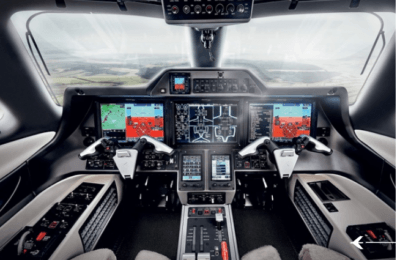 TECHNOLOGY AND ERGONOMICS
The world's largest, fastest, longest range single-pilot aircraft, the Phenom 300E not only boasts
advanced capabilities, but also delivers the most sophisticated marriage of technology and
ergonomics of any light business jet. Its state-of-the-art, touch-controlled flight deck is designed
to anticipate every need, minimize workload and reduce pilot fatigue. The Synthetic Vision System
sees what the eyes can't. Graphical flight planning, SurfaceWatch™, vertical navigation, windshear
alerting and weather radar with vertical scan, ground clutter suppression and turbulence detection
provide even more situational awareness. And the design of the aircraft's synoptic screens and
Prodigy Touch avionics creates an instinctive interface between pilot and aircraft.
[fila] [tamaño de columna = "la mitad"]
Devoluciones y cambios
Hay algunas cosas importantes que tener en cuenta al devolver un producto que compró.
Puede devolver los artículos no deseados por correo postal dentro de los 7 días hábiles posteriores a la recepción de sus productos.
[estilo de lista de verificación = "flecha"]
Tiene 14 días calendario para devolver un artículo desde la fecha en que lo recibió.

Solo artículos comprados directamente de nosotros.

Asegúrese de que el artículo que está devolviendo se volverá a empaquetar con todos los elementos.
[/ lista de verificación] [/ columna] [tamaño de columna = "la mitad"]
Envíe su artículo de vuelta a nosotros
Primero imprima y devuelva este Formulario de devoluciones a:
30 South Park Avenue, San Francisco, CA 94108, EE.
UU.
Recuerde que se enviará el artículo que está devolviendo esté empaquetado de nuevo con todos los elementos.
Para obtener más información, vea nuestra información completa sobre devoluciones e intercambios.
[/ columna] [/ fila]