Tee shirt bra
$120.00
The T-shirt Bra is a high-coverage and comfortable style that offers good support for the bust, available up to cup size G. Its cups are soft, supple, breathable and shape the cleavage. The arabesques embroidered on the Wandering Love line accent the band of the bra. A woven bow and satin spaghetti straps add a little extra adornment to the figure. The T-shirt Bra naturally shapes the bust and is invisible under clothing. A new seductive black colourway is enriching the timeless Wandering Love line. The embroidery and decorative stretch tulle elegantly reflect this new classic colourway. A comprehensive line that offers styles tailored to all body shapes, from cup sizes B to G.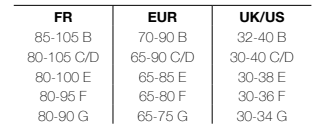 Email to a friend
Description
FRONT EMBROIDERY
: 65% polyester, 26% polyamide, 9% elastane
LINING:
100% polyamide
CUP LINING:
89% polyester, 11% elastane
CUP MATERIAL:
89% polyester, 11% elastane
TULLE BACK:
77% polyamide, 23% elastane
[fila] [tamaño de columna = "la mitad"]
Devoluciones y cambios
Hay algunas cosas importantes que tener en cuenta al devolver un producto que compró.
Puede devolver los artículos no deseados por correo postal dentro de los 7 días hábiles posteriores a la recepción de sus productos.
[estilo de lista de verificación = "flecha"]
Tiene 14 días calendario para devolver un artículo desde la fecha en que lo recibió.

Solo artículos comprados directamente de nosotros.

Asegúrese de que el artículo que está devolviendo se volverá a empaquetar con todos los elementos.
[/ lista de verificación] [/ columna] [tamaño de columna = "la mitad"]
Envíe su artículo de vuelta a nosotros
Primero imprima y devuelva este Formulario de devoluciones a:
30 South Park Avenue, San Francisco, CA 94108, EE.
UU.
Recuerde que se enviará el artículo que está devolviendo esté empaquetado de nuevo con todos los elementos.
Para obtener más información, vea nuestra información completa sobre devoluciones e intercambios.
[/ columna] [/ fila]