Tee shirt bra
$134.00
Aubade's spacer T-shirt bra beautifully enhances busts up to cup size G. It is perfect for a natural, rounded and line-free look. The Aubade design boasts a refined style and cutting-edge technology with moulded cups in breathable 3D fabric. We love the moulded 3D cups' breathable fabric. Aubade's lingerie drawers are expanding and now offer a collection with several designs to adorn the most generous curves. Aubade à l'Amour tells the story of a woman and her body, an interplay of opaque and see-through detailing for a figure that alternates between Gourmandise pink and intense black.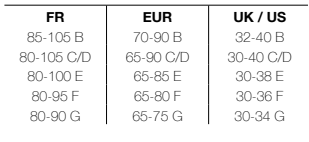 Email to a friend
Description
Color : Black
Front lace: 92% polyamide, 8% elastane
Lace back: 78% polyamide, 22% elastane
Lining: 100% polyester
Cup lining: 89% polyester, 11% elastane
Inside tulle: 80% polyamide, 20% elastane
[fila] [tamaño de columna = "la mitad"]
Devoluciones y cambios
Hay algunas cosas importantes que tener en cuenta al devolver un producto que compró.
Puede devolver los artículos no deseados por correo postal dentro de los 7 días hábiles posteriores a la recepción de sus productos.
[estilo de lista de verificación = "flecha"]
Tiene 14 días calendario para devolver un artículo desde la fecha en que lo recibió.

Solo artículos comprados directamente de nosotros.

Asegúrese de que el artículo que está devolviendo se volverá a empaquetar con todos los elementos.
[/ lista de verificación] [/ columna] [tamaño de columna = "la mitad"]
Envíe su artículo de vuelta a nosotros
Primero imprima y devuelva este Formulario de devoluciones a:
30 South Park Avenue, San Francisco, CA 94108, EE.
UU.
Recuerde que se enviará el artículo que está devolviendo esté empaquetado de nuevo con todos los elementos.
Para obtener más información, vea nuestra información completa sobre devoluciones e intercambios.
[/ columna] [/ fila]