Description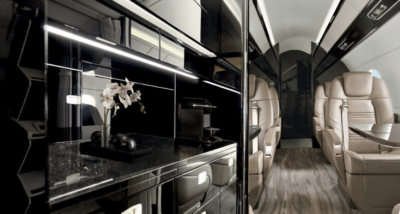 METICULOUSLY FASHIONED
I N V IG OR AT I N G
Carefully designed to meet all your needs on long flights, the Praetor 500's
luxurious stone-floored, highly functional galley will impress you with options,
from a refreshing drink to a nourishing meal. Comprehensively equipped with
a microwave, conventional oven, refrigerator, coffee brewer, and beautiful crystal,
china and silverware, the beautiful and functional galley makes your flight experience
comfortable and fulfilling.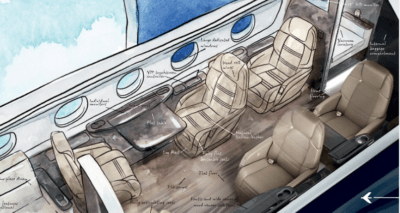 Superior craftsmanship and meticulous attention to detail are evident throughout the elegantly
conceived six-foot-tall flat-floor cabin – from the fully reclining design of the seats with full
berthing capability to their optimal placement beside spacious windows.
Matched with high-tech connectivity and a comfortable cabin altitude, the Praetor 500's
Bossa Nova interior design has been perfected to suit your needs. The Bossa Nova
interiors feature carbon fiber materials, piano-black coloring, and sophisticated
stitching inspired by the famous sidewalks of Ipanema Beach in Rio de Janeiro.
Whether working or dining, the cabin's stowable tables offer plenty of space, opening
flush with the side ledge. The interior design provides the cabin with a beautiful,
rhythmic sense of cool – just like the best Brazilian jazz.
Whatever your in-flight desires,
the Praetor 500's cabin was created with your comfort in mind to be both
functional, luxurious and sophisticated.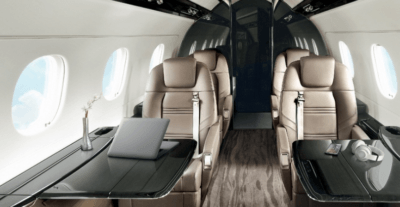 The ultra-quiet environment of the cabin is ideal for normal conversation, working
or relaxing. To keep you fresh and rested, the Praetor 500 delivers the absolute best-
in-class cabin altitude. While you are flying at 45,000 feet, you will feel like you are at
5,800 feet. That's about half a mile below the altitude of Aspen. You will arrive feeling
able-bodied and sharp, ready to take command.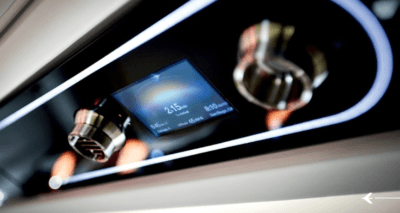 Wi-Fi connectivity that is strong and reliable, just like home or the office.
Exclusive to the category, Embraer equips the Praetor 500 with the very
best in connectivity: Ka-band and Gogo AVANCE L5.
The aircraft's Honeywell Ovation™ Select Cabin Management Suite provides
full 1080P HD video streaming and immersive audio. Unique to Embraer
business jets, the upper technology panel with touchscreen puts flight
status information, ambient lighting and access to cabin controls
directly at your fingertips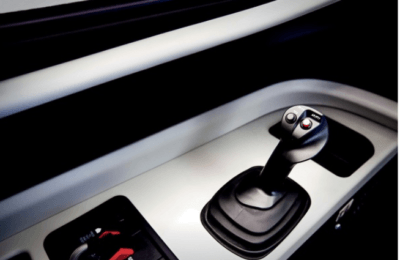 T E C H N O L O G Y P E R F E C T E D
The revolutionary, high-tech Rockwell Collins Pro Line Fusion® flight deck marries cutting-edge technology
with ergonomics and provides an instinctive interface between pilot and aircraft for a safer, easier flight.
The dark and quiet cockpit reduces pilot fatigue and minimizes workload. This industry-leading aircraft also
features a Synthetic Vision System to see what the human eyes can't discern for safer takeoff, landing and
in-flight operations. Enhanced Vision and Head-Up Display (HUD) extends situational awareness.
The Praetor 500's full fly-by-wire with side-stick controls reduces pilot workload and provides a safer,
smoother flight experience with its active turbulence reduction capability while enabling access to more
airports and easier maintenance than manual flight controls.
Revolutionary, industry-leading technology combined with superior flight deck ergonomics make this
aircraft a dream to fly.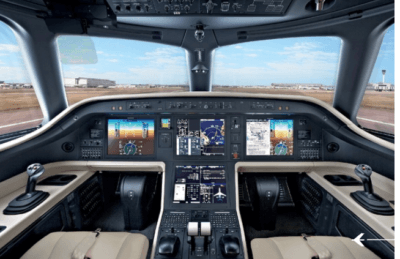 [fila] [tamaño de columna = "la mitad"]
Devoluciones y cambios
Hay algunas cosas importantes que tener en cuenta al devolver un producto que compró.
Puede devolver los artículos no deseados por correo postal dentro de los 7 días hábiles posteriores a la recepción de sus productos.
[estilo de lista de verificación = "flecha"]
Tiene 14 días calendario para devolver un artículo desde la fecha en que lo recibió.

Solo artículos comprados directamente de nosotros.

Asegúrese de que el artículo que está devolviendo se volverá a empaquetar con todos los elementos.
[/ lista de verificación] [/ columna] [tamaño de columna = "la mitad"]
Envíe su artículo de vuelta a nosotros
Primero imprima y devuelva este Formulario de devoluciones a:
30 South Park Avenue, San Francisco, CA 94108, EE.
UU.
Recuerde que se enviará el artículo que está devolviendo esté empaquetado de nuevo con todos los elementos.
Para obtener más información, vea nuestra información completa sobre devoluciones e intercambios.
[/ columna] [/ fila]